Have you ever heard about hot towel treatment? – If you're here with me right now, it probably means yes, but you might wonder how to make the most of it!
It's no secret that dry weather, pollution, and some lifestyles can deeply affect your skin and hair. Some of us are ready to spend a fortune on cream and treatment to prevent skin aging but do you know that some efficient natural methods exist?
Hot towel treatment is a better way to keep your hair and skin pampered, and prevent elements from grabbing your glow. However, to give the best experience to your skin, you need to make sure you have the right tools with you, especially the right towel. 

Some Towels, like the well-known Mizu Towel, are made with high-quality cotton using the very same artisanal crafting methods native to Imabari, Japan. This kind of towels is good for your hair and for your skin, which make them ideal for a DIY hot towel treatment. 
TABLE OF CONTENTS:
A Little Recap about the Benefits of Hot Towel Treatment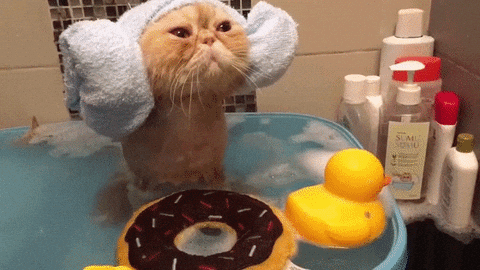 Hot towel treatment provides moist heat that penetrates the skin into your organs and muscles to promote deep relaxation and tissue softening. The treatment helps to relax the muscles around the eye. Also, it opens your skin pores and makes the penetration of moisturizer into your skin easier.
But do you know what is the most important tool to ensure the best experience? - The towel. If you're using a poor quality towel, you will end up feeling uncomfortable. However, if you're using a luxury towel like Mizu towel for the treatment, you can enhance your experience.
The moist heat from the hot towel can also promote better circulation in the head, neck, shoulders, and the entire body. Additionally, hot towel treatment is an excellent way to let your mind relax, soothe sore, mobilize joints, soften various tissue adhesions, and relax tense muscles.
What Quality Hand Towels Should You Use for Hot Towel Treatments?
If you want to pick a towel for hot towel treatment, one thing that should always ring in your mind is "never choose a hand towel from touch alone." Knowing and choosing a high-quality towel is more than how attractive they are and how they feel in your hands. They might appear soft and nice, but when you use them for hot towel treatment, they will feel rough and coarse.
So what features should high-quality hand towels that you can use for hot towel treatment have?
Royal softness – The feel of hand towels largely depends on the type of cotton they are made of. If you want a towel that offers royal softness and will also become softer as you wash them, you need to choose the ones typically made of 100% standard cotton such as the Xinjiang cotton, and Egyptian cotton. A towel that is too rough can cause flaking, irritation, dry skin, redness, and other negative side effects on your skin cells. This is the reason why it is necessary to choose a luxury soft towel like Mizu Towel. Their softness treats you like royalty and pampers your skin during hot towel treatment.
Perfect size – size matters when it comes to giving your face, hair, and other parts of the body a hot towel treatment. A perfect sized hand towel will enable an even treatment. Unlike the regular sized towel, you only require one high-quality hand towel with the perfect size to get all the jobs done. You don't need a separate towel for face and hair hot towel treatment. It saves you money as you don't have to spend extra on an additional hand towel.

Hyper absorbent – regardless of the method you want to use to heat your towel, you need a towel that can absorb more water than an average towel. Best water absorbing towels such as the self-cleaning Mizu Towels absorbs water five times their weight. It means they will be able to retain heat for a long time. Not only that, they won't leave water dripping down your face or body.

Quick-dry ­– using a quick-dry towel for hot towel treatment means you can use the hand towel anytime you want. Also, it means you can prevent germs, mold, mildew, and bacteria from breeding on the towel. To maintain healthy skin, you need high-quality hand towels such as Mizu Towels which come with proprietary technology to dry three times faster than an average towel.

Eliminate bacteria – used towels have the highest risk of skin infection because thousands of bacteria can breed on them. This means to have a healthy hot towel treatment; you need high-quality hand towels that can get rid of bacteria. Smart towels such as the Mizu Towels are a solid choice. The fibers of the self-cleaning Mizu Towels are coated with natural, pure silver, which is known to prevent and eliminate 99.9 percent of bacteria growth.

Detect impurities – Apart from bacteria, some other impurities can take a toll on the health of your skin. Detecting these impurities before and during hot towel treatment can help prevent your skin and hair from contamination. An average hand towel cannot detect impurities. However, high-quality hand towels such as the Mizu Towels can do the job. Apart from the silver coating that kills bacteria, the Mizu Towels come with sensing areas that change color when they detect impurities such as sweat and chemicals. This means you have a safer hot towel treatment with Mizu Towels.

Easy maintenance – can an average hand towel tell you when it is dirty and needs a wash? Of course, no! High-quality hand towels like the Mizu Towels will tell you when they are clean, when the time to wash them is around the near, and when they need to be washed. That is why they are called the self-cleaning Mizu Towels.

Durability and longevity – Leave it or take it, a few towels are built to last. Out of the few ones are the Mizu Towels. The high-quality hand towels feature twisted yearn weave that ensures maximum durability and double stitched hems that give them a longer life than other luxury soft towels. 
To cut the story short, Mizu Towels are the high-quality hand towels that should be used for DIY hot towel treatment. They have exceptional features that make them stand out among other top quality hand towels.
How to warm my towel properly? 
You must be wondering what the easiest way to warm your towel is. Here are the three common methods:
Method 1 – Run the towel under steam water from the faucet
This method involves running your high-quality hand towel under the hot water from the kitchen or bathroom faucet. Allow the towel to soak for about two minutes, and then squeeze it to get rid of the excess water. After that, dab it on your face. This is the simplest and easiest method but take note that this method only works for people that have a faucet that pumps out steam water.
Method two – Nuke the high-quality hand towel in a microwave
This is the surer and faster way to heat your towel. You need a durable hand towel like Mizu Towels that can withstand every abuse for this method. Put the high-quality hand towel in a bowl or dish, run it under the kitchen faucet for about one minute and then put it inside the microwave. Allow the towel to stay in the microwave for 30 seconds. Remove and place it on your face. Take note that if you can't withstand the temperature of the towel, allow it to cool for a few seconds before dabbing it on your face and neck.
Method three – Use the teapot
If you don't have a microwave and faucet with hot water, you can use this method. Pour enough water in the kettle or teapot and allow the water to boil. When the water boils pour it on the high-quality hand towel, you have already put inside a bowl. Allow it to soak for some minutes, drain the water, and allow the towel to cool a bit. Squeeze to eliminate the excess water and put the towel on your face till it cools.
What Are The DIY Hot Towel Treatments Available?
As mentioned earlier, you can bring the luxury of your local barbershop home, get the same spa treatment at home, and also rejuvenate your damaged, dry hair using the high-quality hand towels for DIY hot towel treatments. Check below for the different ways to achieve effective DIY hot towel treatments.
DIY hot towel treatment for face and shaving
Find a perfect sized hand towel
You can make the towels more relaxing by picking an essential oil or use a moisturizer cream to get a more relaxing experience
If you want to use a moisturizer cream, put a lot of it on your face. But if you want to use an essential cream, drip a few drops on the towel. Ensure the hand towel is dry and wet before you apply the essential oil
Heat the towel using any of the methods mentioned in the "how do you make a hot towel" section above.
Lie down in a comfortable position, apply the hot towel on your face, and wait for the towel to cool. If you use moisturizer, rub the towel around your face to get rid of the excess moisturizer. 
When the towel is cool, remove it and start to shave.
 DIY hot towel treatment for hair
 Use a preferred shampoo to cleanse your hair, wash out the shampoo, and use hot water to rinse your hair
Brush out your hair, give every strand hot water treatment or cover with a deep-conditioner
Get a hand towel with a perfect size and heat it using any of the methods mentioned above
Wring the towel to get out excess liquid and wrap it around your hair. You can wear a shower cap on the towel to prevent it from slipping
Check the temperature of the towel every three minutes and if the towel starts to cool, remove it and heat again 
Keep repeating step three, four, and five for around 30 minutes to two hours.
After that, remove the towel and use lukewarm water to get rid of the hot oil treatment or deep conditioner.
Dry, brush, and style your hair



Types of Towels to Use
Now that we have discussed how to find the best quality towel for massage therapy, it's time to see which type of towel should be your first pick. While hand towels are still our favorites, there's no doubt that other types can be used to get the best massage. 
If you are specifically looking to keep a collection of towels for the best in-home massage, use our guidelines to up your game by a notch. 
Moreover, having the right towel for the right job will enable you to run an immaculate house, and that is (almost) as good as getting a relaxing massage. Most passionate homemakers would agree, a towel is "not just a towel"!
Let us explain further: 
Hair Towels
Raise your hand if you wrap a large towel on your head after a shower? If you do, then perhaps, you don't know there's a thing called 'hair towels' that actually exist. They are specially designed and stitched to sit right on top of your head, almost like a turban.
Some of them have buttons, while others have snaps to keep the towel in place. You can even select different sizes according to your hair length. Most women love them since they are super convenient to use and even easier to dry. 
Wet hair is highly vulnerable and prone to breakage. Therefore using a body towel might end up roughing up your hair shaft, creating frizz and split ends.
On the other hand, most hair towels are softer and don't pull or tug your tresses. Just slide the towel on your hair and wait for it to wick away the moisture. Were you thinking about using a hair towel for your hot towel treatment? Go ahead; there's no reason not to!
Finger Towels
Only the most sophisticated homeowners are likely to invest in a set of finger towels. They are small, or shall we say tiny, usually measuring about 11 x 18 inches. You may recall seeing these small towels in high-end restaurants or luxury hotels.
Indeed, finger towels are primarily used for decorative purposes and have no practical usage. The delicate linens are mostly embroidered and can be personalized with monograms to add a touch of class. 
Needless to say, you can skip on these high-priced linens when planning towel massage therapy.  
Face Towels
Do you use the same skincare products on your body that you use on your face? No, right? It's because facial skin is more sensitive and requires targeted products. This is where a
face towel
comes in handy.
Face towels, also known as washcloths, measure 13 x13 inches. Not only is this linen the most appropriate size to clean your face, but it's also easy to store, wash and dry. 
Similarly, having separate towels for your face and body prevent cross-contamination. This means, eventually, you'll have to deal with lesser breakouts and dehydrated skin. Definitely, that's the best choice for your next facial, also serving hot towel therapy. 
Hand Towels
We don't consider ourselves with the likes of Martha Stewart, but we believe that a hand towel is an undeniable addition to any household. As the name suggests, it's best suited for drying hands or face after a quick rinse. 
In reality, this type of towel is highly versatile. You can use it for your kids, as a decorative element in the guest bath, or for general pampering. They measure about 16 x30 inches and are usually available in sets. 
The hand towel is versatile enough so that you can use it for hot towel therapy anywhere on the body. Did we mention Mizu hand towels are the softest, plushest, and anti-bacterial hand towels around? They may be pricier, but that's because they only use the best quality Xinjiang Cotton.  
Bath Towels
Any bathroom is incomplete without a bath towel, making it the most famous type around. Standard bath towels measure 30 x 56 inches and are downright versatile.  
Bath towels are available in many fabrics: cotton, microfibre, or terry. If you want a lightweight towel that dries quickly, microfibre is your best bet. But if you are looking for downright plush and pillowy soft linen, always opt for 100% cotton.
Moreover, check the GSM count of the towel, which determines how soft it will be. The higher the GSM, the better it is. 
Beach Towels
While there are no rules against bringing your bath towel to the beach, what's the fun in that?
Beach towels feature a more significant size and are generally available in fun, playful colors and prints. 
Other than that, a beach towel is slightly longer and more tightly woven than the standard bath size. This is to prevent sand from settling in the loops, which is quite a nightmare to wash off. In addition, some microfibre beach towels are so compact; they fit in a small pouch.  
So, stock up on your favorite prints before you hit the beach this Summer! They will be a conversation starter at any outing. Not to mention, this type is not ideal for hot towel treatments. 
Bath Sheets
If you want to add a bit of luxury to your everyday shower, oversized bath sheets are the way to go. They are relatively large in size ( 40 x70 inches), and you can use them at home, the gym, or even at the beach. 
When it comes to towel therapy, you can spread a bath sheet and lay over it for ultimate comfort. You could even choose to lounge in the towel comfortably while you pamper yourself.
Pet Towels
Pet towels
are specially designed to dry off your furry friends quickly after a shower. Therefore, pet parents must designate separate towels for their dogs and cats.
Of course, you don't want to use the same towel as your pet; buying separate ones makes complete sense. Moreover, they are specially designed to tackle muddy and sloppy cats and dogs. 
You can even use the plush pet towels as a blanket for your dog on cold days or stick it in the kennel to keep your pets warm, cozy, and comfortable. 
Keep these towels handy to clean up a mess at home, or stash it in your bag to clean your pet on the go. However, on your spa day, better keep them at a safe distance
Conclusion

No doubt, DIY hot towel treatment can work like magic on your face and hair. However, the best way to get an easier, more economical, and very effective hot towel treatment is to make use of high-quality hand towels.
You can get the most out of hot towel treatment by using the Mizu Towels because they offer royal softness, highly absorbent, dry faster, kill bacteria, detect impurities, easy to maintain and to mention a few. The Japanese cotton bath towels, like the famous Mizu Towel, are worth trying.